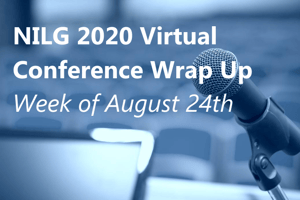 Berkshire's consultants are attending the NILG 2020 Virtual Conference Webinar Series, which is a series of complementary webinars in July and August. Below is our round up of a few sessions from the last week of sessions:
AI and Recruiting
This session talked about using Artificial Intelligence (AI) in recruiting practices, and what contractors need to be aware of when it comes to compliance with OFCCP regulations. The presenters identified AI as the branch of computer science that is concerned with building smart machines capable of performing task that are typically require human intelligence. Types of AI used for recruiting include sourcing, screening (auto shortlisting), interviews, assessment, and data management of candidates.
When discussing AI in relation to OFCCP regulations, the presenters mentioned OFCCP's FAQ regarding analyzing selection devices for adverse impact. Contractors are required to validate the selection procedure if the agency discovers that an AI-based selection procedure is having adverse impact. The presenters relayed 5 compliance and risk areas contractors should consider. These areas are:
Vendor claims of "compliance"-These claims are not considered by OFCCP to be valid. The contractor must validate any AI tool that is used in their own facility.
The UI/UX Continuum-making sure that the technology compatibility (Universal Design) is part of the vendor's products and services.
Understanding how AI works-

White Box AI is when the company controls the questions and the internal structure of the testing is known by the contractor using the AI.
Black Box AI is when a contract is using questions set up by the vendor. The testing design is not known by the contractor.

Keep up with Personally Identifiable Information-This is the information that can be used to distinguish or trace an individual's identity (name, SSN, date or place of birth, mother's maiden name, biometric data, etc.) or other information that is linkable to a person (medical, educational, financial, etc.). There is some legislation to cover protection of personal data, however contractors should ask "what safeguards does the AI have in in place to protect data or recognize data privacy?" Some states do also require that applicant be informed of the use of AI in application/hiring process (which may apply to video interviews).
The Consumer Reporting Agencies (CRAs)-The Fair Credit Reporting Act has notice, disclosure, and other requirements involving the use of information collected by consumer reporting agencies. Contractors should be aware of the vendors they choose to use and how technologies could have implications related to CRAs, including notice and disclosure requirements.
In the end, contractors will want to get ahead of the risk of using AI for recruiting purposes. Some questions to ask are:
Who is involve in the decision making?
What is the organization's risk profile?
What opportunities exist to improve processes?
What programs or policies are in place to address accessibility?
What guardrails are in place to address vendor compliance?
What safeguards exist in vendor agreements?
Vendors will probably not have language in contracts to protect contractors against potential discriminatory impacts. Contractors should discuss with vendors and ensure that any AI used has demonstrated validity for the contractor.
OFCCP Developments and Closing
John Fox delivered a presentation to discuss recent significant OFCCP developments that have occurred over the year, everything from how the OFCCP has been operating during the COVID-19 pandemic to lessons that can be learned from the OFCCP's enforcement statistics. Below are some key takeaways from his presentation.
Fox stated that due to the pandemic, there are a lot of people in the job seeker pools. There have been more veterans, IWDs, and minorities in the pool now than in February. His advice to contractors was to ensure that recruiters are casting a wider net to get people into the pool at least at the availability rate.
The size of the OFCCP was a topic of discussion as well. Fox predicts that the complaint work will transfer to the EEOC, and that there will be a move to a more remote workforce for the OFCCP. If this happens, contractors will need to learn how to "present persuasively via remote." Fox predicts that OFCCP's big back-pay collections will fall sharply in 2022 because it was a short-lived phenomenon.
The confusion over who is "similarly situated" was another focus. Fox stated that similarly situated employees should not be defined by economists, statisticians, or lawyers. Contractors should look to the hiring managers and recruiters for who should be put into a job group. The bottom line made here is that employees must be able to perform all essential functions at minimal competency for the jobs to be included in the same job group.
Fox closes the session by discussing ways to convert the AAP into an intelligent diversity and inclusion generator. He stated that contractors need to know the 'why' behind their placement goals, and then fix it. He stated that more outreach is not always the answer - for some jobs where there is a shortage and the workforce is long tenured, they are probably not as diverse as current availability. His advice was to keep trying and hiring at the availability rate. Lastly, he made a point to mention that Black employees are leaving employers, often to set up their own companies. His advice was to monitor the exit interviews as the culture of the organization could be the problem.
This year's Virtual Conference Webinar Series wrapped up this week. Our hats are off to the NILG planning committee to pivoting to an engaging, informational format when the in-person conference was cancelled. Berkshire will include some of the key takeaways from the virtual conference in upcoming webinars.