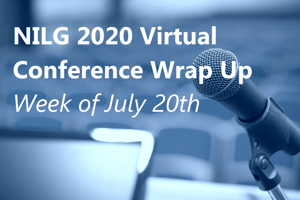 Berkshire's consultants are attending the NILG 2020 Virtual Conference Webinar Series, which is a series of complementary webinars in July and August. Below is our round up of a few sessions from this week:
OFCCP Audits
The presentation focused on the importance of job groups in ongoing AAP development. The way the agency uses job groups has changed, and contractors should evaluate job groups with this in mind – they are the core of calculations pertaining to goals, adverse impact, and compensation. A good job group structure will eliminate false positives and should be designed around similarity of jobs, opportunities for advancement, and compensation.
The speaker indicated there is nothing in OFCCP regulations or the Federal Contract Compliance Manual that indicates what size a job group must be – but, the structure must be reasonable. It is not the contractor's job to create groups large enough for OFCCP to do the analysis they would like to do, but make sure that the job group structure is logical and defensible. If the agency wants to group contractor data differently, they must show that their approach is appropriate.
Branch of Expert Services
Members of the OFCCP Branch of Expert Services provided their view of compensation. The speakers presented their concerns with the small numbers of records in pay analysis groups (PAGs), particularly when race/gender makeup is considered. Another example given was for applicants, where the speakers expressed preference for multiple requisitions of placements for a single job over a requisition analysis. The experts indicated small group statistics are not as reliable direct estimates as larger samples, and in many cases it's not possible to apply the classical formulas of statistics to the smaller groups.
If the contractor is limited to small groups, OFCCP can conduct "statistic-adjacent" reviews that include matched pairs and simple cohorts. The agency will look for sets of individuals who are nearly identical besides protected class and try to determine if there are equivalent hire dates/rates of pay. The agency's experts indicated that an isolated view of data results often misses smaller but consistent occurrences across a dataset, and that's why those results should be combined and tested.
Compliance on Campus
This webinar focused on the recruiting practices of higher education and how the practices that are unique to universities can inadvertently come into conflict with record keeping and other EEO requirements. The session reviewed the good faith efforts, job listing, and nondiscrimination obligations of all contractors, and reviewed how these obligations impact sourcing, in-person and virtual job fairs, interviewing, and finally offers of employment in the higher education setting.
Berkshire will continue to report on NILG sessions throughout the summer.
Berkshire's own, Lynn Clements will be presenting a session on July 28th - "What Would You Do? Exploring Best Practices for the Employment of Individuals with Disabilities". Click here to register for the free session!