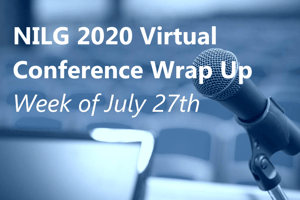 Berkshire's consultants are attending the NILG 2020 Virtual Conference Webinar Series, which is a series of complementary webinars in July and August. Below is our round up of a few sessions from this week:
Exploring Best Practices for the Employment of Individuals with Disabilities
Lynn Clements, from Berkshire Associates shared some valuable EEOC resources around the health pandemic. Be sure to check out the two new updated EEOC documents on What you Should know about COVID-19 as well as the Pandemic Preparedness guidance document. You will also find some valuable information in the EEOC's recorded webinar addressing common questions related to the health pandemic at https://www.eeoc.gov/coronavirus.
Here are some best practice take-aways for consideration:
Evaluating Job Qualifications – develop a schedule for evaluating job qualifications and reviewing mental and physical qualification standards (consider doing a review when a new job is created; a job is posted; or an accommodation is requested).
Reasonable Accommodation Requests - develop a written accommodation policy; train managers and employees on the process; track requests and approvals; use a centralized process and budget for managing requests.
Disability-Related Inquiries – confirm disability self-identification and other medical documentation is appropriately maintained; refocus pre-screening questions on 'willingness' versus 'ability' to do the job; ensure medical inquiries comply with ADA.
Berkshire will continue to report on NILG sessions throughout the summer.