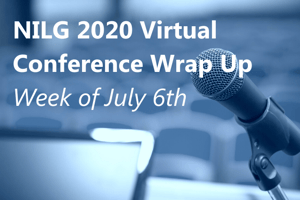 Berkshire's consultants are attending the virtual NILG 2020 Virtual Conference Webinar Series, which is a series of complementary webinars in July and August. Below is our round up of a few sessions from this week:
Opening remarks: The known and the unknown
OFCCP Director Craig Leen shared a compelling personal connection to OFCCP's mission and some helpful information about upcoming audits. The community knows that the agency is still scheduling from the Spring 2019 list of establishment, compliance check, corporate management, and Section 503 focused reviews. In light of the pandemic, we know OFCCP offers 30 – 60 additional days for initial submission. We know that the focused 503 reviews include an onsite review, and these reviews have been conducted virtually since March. We know the agency is expecting contractors to review the Office of Disability Employment survey and implement the best practices recommended there. We also know that the agency will be increasingly focused on Native American employment, religious and disability accommodations and how they are built into the contractor's budget and corporate policies.
What we don't know is when the agency will begin scheduling from the November 2019 list, which only includes VEVRAA Focused Reviews. Director Leen indicated letters could begin to go out in the next "several weeks". We do know that these reviews will have a (virtual) onsite component and the agency says they will address veteran's spouses, but it's not clear how contractors will share information about spouses since those analyses are not part of the AAP or scheduling letter. Director Leen also signaled an upcoming focused review on promotions, although we don't know the timeframe for the development of an accompanying scheduling letter. We also don't know if another Corporate Audit Scheduling List will be issued in 2020.
Behind the curtain: Managing an OFCCP audit
In contrast to sessions about how to present or submit data for investigation, this session focused on the process of internal company management during an OFCCP compliance review or other agency investigation. The presenters provided these best practices: make sure there is a team in place, and that team can translate the agency requests into the organization's language and can serve as a double check to make sure the information that goes to the agency is correct. Make sure roles are clearly defined in terms of communication with the agency. Do not develop policies just to have them available in an audit. Prepare carefully for an onsite audit and interviews and work out logistical concerns ahead of time. When the audit is over, reflect on the compliance assistance that the auditors provide as a way of moving the organization closer to compliance goals as a way of moving forward.
To FAAP or not to FAAP: a case study
This presentation took a pro/con approach to applying for a Functional Affirmative Action Plan (FAAP) for the organization. FAAP agreements allow organizations to develop functional, rather than location-based AAPs, but the agreement must be negotiated with the agency. The presenters made the case that these types of agreements are best for contractors with lots of employees in in the same job title but duties and responsibilities differ based on functional area, or a university could conduct analyses by schools or a faculty/staff. Some of the benefits of FAAPs are flexibility to structure metrics, designating an executive responsible for each plan, and putting similar employee groups together. They also allow for customization and specific metrics that are tied to the organizational structure. Some drawbacks include the initial submission, which can be burdensome to prepare, the FAAP may result in larger plans which can increase risk, and a single FAAP compliance evaluation may result in multiple onsite visits, and there can be increased administrative maintenance associated with the plans and the agreement.
ODEP Keynote presentation: getting to know the agency
The Deputy Assistant Secretary of the Office of Disability Employment Policy (ODEP) presented about the agency and its role in assisting employers in creating a better workforce environment for individuals with a disability. The agency uses an inclusion framework and offers culture analysis and best practices; mental health awareness; accessible software and technology platform recommendations. The agency also conducts studies like the one mentioned in the opening session, and tools like the Job accommodations network (JAN)and Askeran.org.
Berkshire will continue to report on NILG webinar sessions throughout the summer.
Berkshire's own, Lynn Clements will be presenting a session on July 28th - "What Would You Do? Exploring Best Practices for the Employment of Individuals with Disabilities". Click here to register for the free session!