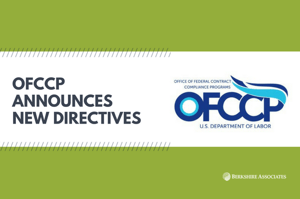 Today, OFCCP announced three different directives geared towards maximizing the success of compliance assistance outreach for federal contractors. The directives include new procedures for reviewing compensation practices, a program to verify that contractors are in full compliance with federal AAP requirements, as well as an initiative that will establish a program that recognizes contractors with high-quality and high-performing compliance initiatives.
Compensation Practices Directive—Directive, 2018-05
The Compensation practices directive (Directive, 2018-05) may be accessed here. It not only clarifies compensation standards but also provides additional transparency to contractors about the agency's approach when conducting compensation evaluations. The agency believes this guidance will support the contractor's ability to conduct meaningful audits internally and eliminate pay discrimination by proactively addressing issues within their compensation practices.
Affirmative Action Program Verification Initiative—Directive, 2018-07
The Affirmative Action Program Verification Initiative (Directive, 2018-07) may be accessed here. Its purpose is to establish a process for validating compliance efforts by all contractors with their Affirmative Action Plan (AAP) obligations. The directive is a result of a 2016 report which revealed that "close to 85 percent of contractor establishments did not submit a written AAP within 30 days of receiving an official scheduling letter."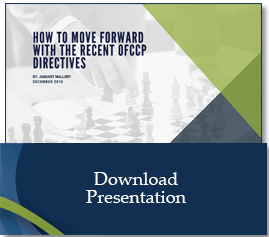 Download to Learn More About Complying with Recent OFCCP Directives

Contractor Recognition Programs—Directive, 2018-06
The third directive, Contractor Recognition Programs (Directive, 2018-06) would provide recognition for contractors to help encourage more proactive and robust compliance efforts. The program will also highlight model contractor practices and provide a mentoring program throughout the contractor community to help establishments improve their compliance efforts. A copy of the Directive may be accessed here.
More information regarding these Directives will be made available as information is released by the agency.
Subscribe to BALANCEview to stay up-to-date on OFCCP directives as they are announced.