3/24/2023 Update
Contractors are actively entering the OFCCP certification portal to update establishment information. Please note that although you can access the site and establishment information, you will not be able to certify until the certification period begins on March 31, 2023.
New for the 2023 cycle is the requirement to enter the start date of the "currently maintained AAP." When filling in this date, you will use the date as found on the cover page of your written AAP. For example, if you have a July 1, 2022 AAP in place, the start date will be 2022-07-01 and the site will automatically calculate an end date of 2023-06-30. A January 1 plan date will be entered as 2023 with an end date of December. See the chart below to confirm your Certification Deadline and AAP Start Date.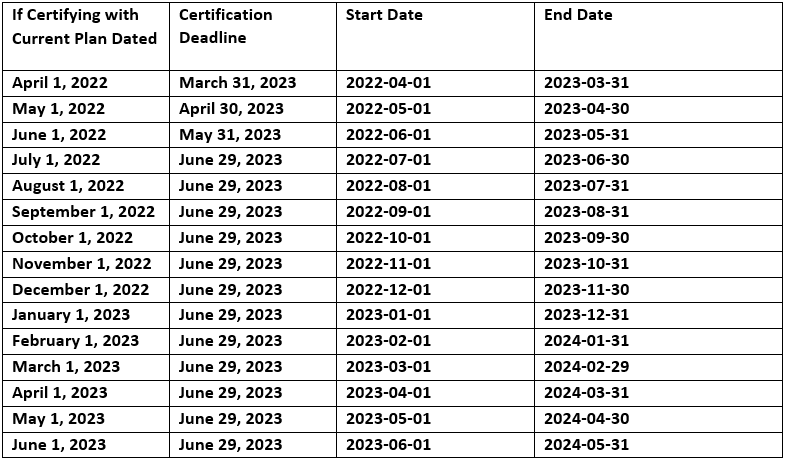 ----------------------------------------------------
3/20/23 Update
OFCCP threw us a curveball in 2022 with the first-ever requirement that all eligible federal contractors certify their Affirmative Action Programs. Now, in 2023 we are entering our second year of this certification requirement and here's what we know:
This year, the certification portal will open on March 31, 2023, and all existing contractors will be required to certify their Affirmative Action Programs by June 29, 2023. See OFCCPs announcement at https://content.govdelivery.com/accounts/USDOLOFCCP/bulletins/34f4880
Contractors who have not yet registered in the portal are encouraged to do so now.
In the inaugural year of certification, OFCCP offered numerous guidelines and webinars for contractors looking to understand the process; and Berkshire did the same. This year, we expect that OFCCP will continue to offer guidance on the process – but, considering that this is no longer a brand-new process, we are not sure to what extent.
Berkshire experts, however, are committed to interpreting these guidelines for our federal contractor community, so please stay tuned as this situation evolves.
And be sure to subscribe to our blog for instant, weekly, or monthly notifications as we post updates.