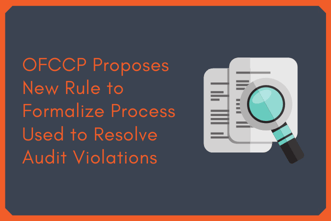 The Office of Federal Contract Compliance Programs (OFCCP) recently issued a proposed rule that would codify the process the agency uses to resolve violations during a compliance review. The proposal also explains the types of evidence needed for the agency to find discrimination. The proposal is an extension of OFCCP Director Craig Leen's focus on transparency and certainty and seeks to formalize several case processing initiatives OFCCP implemented through less formal directives and the agency's Federal Contract Compliance Manual. If finalized as regulations, the case processing requirements would have greater legal effect and could only be changed by a different administration through public notice or comment.
In issuing the proposed rule, Director Leen stated that the proposal "aims to provide greater certainty and transparency about the procedures that OFCCP follows during compliance evaluations to resolve employment discrimination and other material violations."
The proposed rule focuses on two areas of the compliance review process:
Codifying the process the agency will use to notify contractors of the agency's findings in a compliance review through a Predetermination Notice (PDN) and Notice of Violation (NOV)
Setting standards for the type of statistical and non-statistical evidence required for a discrimination finding
The proposed rule sets forth a detailed discussion of how OFCCP will use statistical and non-statistical evidence in a compliance review. The proposal clarifies that, absent non-statistical evidence such as witness statements, differential treatment of individuals through comparator review or anecdotal evidence, OFCCP will only pursue a matter when discrimination is indicated by statistically significant evidence at the 99 percent confidence level (i.e., three standard deviations, or a p value of 0.01 or less). The proposal also provides, however, that the agency may issue a discrimination finding without non-statistical evidence when the statistical data is at or above 3 standard deviations or when there is a "pattern" of discrimination, such as statistically significant selection disparities across more than one year or across multiple contractor establishments.
The proposed rule also provides that OFCCP must issue a PDN before it issues a final NOV for alleged discrimination. This change formalizes a requirement put into place by Director Leen through a directive and will allow contractors an earlier opportunity to understand and potentially rebut the agency's preliminary findings before the agency moves to more formal enforcement. The proposed rule provides that the agency should consider the following factors when deciding whether to issue a PDN:
Whether a statistical disparity is "both practically and statistically significant";
Whether, when required, corroborating non-statistical evidence "demonstrates an intent to discriminate"; and
Whether the statistical indicator is at or above 3 standard deviations
The proposed rule does not change the existing regulation regarding the conciliation process but does add a provision that contractors may waive issuance of a PDN and NOV to enter into a conciliation agreement early in a compliance review process. This change seeks to formalize Director Leen's early resolution initiatives.
OFCCP is accepting comments on the proposed rules through January 29, 2020. Comments can be filed online by contractors and other interested parties. Since the agency's proposal could be revised before it is implemented as a final rule, it remains to be seen what impact this proposal will have on contractors during a compliance evaluation.