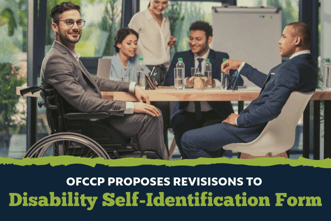 In a Federal Register notice dated October 3, 2019, the OFCCP announced that it is proposing changes to the voluntary self-identification form all federal contractors and subcontractors are required to use when inviting applicants and employees to self-identify their disability status.
The revised form makes the following general changes:
Moves the space for the individual's name and date to the top of the form
Removes the reasonable accommodation notice so that the form is now one page instead of two
Significantly revises the language used for the "Why are you being asked to complete this form" section
Revises the list of examples of disabilities, such as by adding autoimmune disorders, gastrointestinal disorders and nervous system conditions including migraine headaches
The agency's supporting statement indicates that the proposed "nonmaterial" changes were made "in an effort to increase the response rate on the form." The agency went on to explain that the "changes include softening the tone of the form to make the language more positive, updating and alphabetizing the types of disability, and removing the reasonable accommodation notice." The agency stated it was removing the reasonable accommodation notice because it "created confusion among applicants and employees who thought that completing the form automatically referred them for a reasonable accommodation."
The proposal is subject to public comment until December 2, 2019. Contractors can view the proposal, including the revised form, online at regulations.gov at https://www.regulations.gov/document?D=OFCCP-2019-0005-0004.
Importantly, until the proposal is finalized, contractors should continue to use the current disability self-identification form, which expires in January 2020. If you have questions about the proposed changes, or how best to comment, please contact your Berkshire consultant.