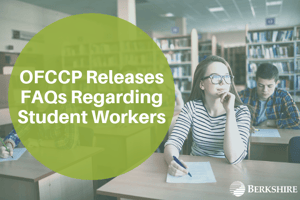 In a recent series of FAQs regarding student workers, the OFCCP answered the question of if students should be included in the Affirmative Action Plans (AAPs). The FAQs also provided guidance regarding who is considered a student worker.
In the FAQs, the OFCCP defines a student worker as "student, undergraduate or graduate, engaged in research, teaching, work-study, or another related or comparable position at an educational institution." The OFCCP also goes on to elaborate that the primary relationship the student worker has with the institution is educational and that the student's position has been obtained in conjunction with or as a result of their studies.
The agency goes on to explain that while they will accept student worker data during a compliance review, it will not consider the data when determining any violations. This is because of the burden for contractors to determine if the student workers meet the legal test for employee and may prolong the time it takes the OFCCP to complete compliance evaluations. The agency also states that this review of student workers may take away the focus on examining the personnel practices and outcomes of non-student employees. The agency also indicated that the data for student workers is typically not as robust due to quick turnovers and limited applicant pools.
The OFCCP rounds out their FAQs by stating that the agency will not cite a higher education institution for not including student workers, but that they will continue to accept complaints filed by this group of workers. The full listing of FAQs can be found here. Could these FAQs regarding student workers be an indicator that the OFCCP is coming close to finalizing their guidelines for Colleges and Universities? Stay tuned.
Be sure to subscribe to this blog for future updates.