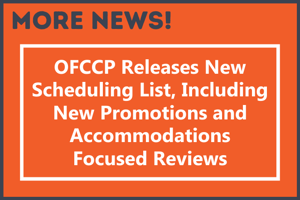 The Office of Federal Contract Compliance Programs (OFCCP) released two new Corporate Scheduling Announcement Lists (CSAL) today, available online at https://www.dol.gov/agencies/ofccp/foia/library#Q1. The first list includes 2,250 supply and Service establishments and the second list includes 200 construction establishments.
The Supply and Service list includes multiple different types of compliance reviews, including two new types of focused reviews:
500 Compliance Checks

402 Establishment Reviews

31 Functional Affirmative Action Plans

67 Corporate Management Compliance Evaluations

250 Section 503 Focused Reviews

500 Promotion Focused Reviews (new this scheduling cycle)

500 Accommodation Focused Reviews (new this scheduling cycle)
The CSALs provide contractors a minimum 45-day courtesy notification before OFCCP begins sending its OMB-approved scheduling letters. The OFCCP is still scheduling from its March and November 2019 Scheduling Lists so it is hard to predict when OFCCP will begin scheduling reviews from these new lists.
The OFCCP also posted new FAQs regarding its scheduling process, available at https://www.dol.gov/agencies/ofccp/faqs/scheduling-lists. The new FAQs indicate that more information about the Accommodation Focused Reviews and Promotion Focused Reviews will be available before those reviews are scheduled. It is important to note, that OFCCP does not have a currently approved, or even proposed, Scheduling Letter for these two types of new focused reviews.
Berkshire will be providing more information about the scheduling lists after we have reviewed in more detail.