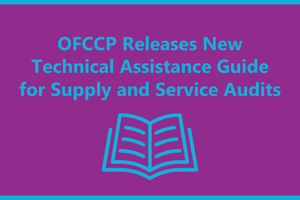 Continuing the OFCCP's promise of transparency, the agency recently released an updated Technical Assistance Guide for Supply and Service Contractors. The 158-page document is extensive, but helpful for contractors. The guide states it is intended to assist contractors with the following objectives:
Understand legal obligation under the laws OFCCP enforces
Comply with federal EEO laws even in the absence of a scheduled compliance evaluation by OFCCP
Develop written affirmative action programs (AAP) under Executive Order 11246, Section 503 of the Rehabilitation Act of 1973 and the Vietnam Era Veterans' Readjustment Assistance Act of 1974
Prepare for an OFCCP compliance evaluation.
Here is a more comprehensive list of the items included in the guide:
Outlines and describes various forms of discrimination
Lists the required postings, listings & notices for contractors
Outlines the various mandatory recordkeeping requirements
Clarifies types of Applicants (Internet vs Traditional) and appropriate record keeping in databases
Provides clarification on remote and telework employees
Describes the Workforce Analysis and what the agency expects to see when analyzing for Concentration and Underrepresentation
Gives clear steps and recommendations for creating job groups - by Content, Opportunity, and Wages – including examples of how to review jobs and job groups.
Provides information regarding the EEO Tabulation requirement for availability analysis, as well as a link to the data
Gives very detailed steps to calculate availability and underutilization
Describes each section of the AAP Narrative including: Designation of Responsibility, Identification of Problem Areas, Action-Oriented Programs, Internal Audit and Reporting System
Clarifies the differences in requirements for invitations to self-id under Section 503 and VEVRAA
Clarifies requirements if using an electronically fillable version of self-id forms. Also includes an updated sample VEVRAA self-id form to the sample provided as an appendix to OFCCP's regulations.
Walks through the written AAP Components of the Section 503 and VEVRAA AAPs, including: EEO Policy (contents & what to do with it), Disseminate EEO Policy Internally and Externally (musts and recommendations), Review of Personnel Processes, Review of Mental and Physical Job Qualifications, Reasonable Accommodation (as Nondiscrimination and as Affirmative Action), Develop and Implement Procedures to Prevent Harassment, Undertake Outreach & Positive Recruitment, Design & Implement an Audit and Reporting System, Designation of Responsibility, Training, Data Collection Analysis
Describes other requirements including: EEO-1 Survey, VETS-4212 Report, Notice of Employee Rights under the NLRA, Compliance with the Sex Discrimination Regulations, Compliance with the Guidelines on Religion or National Origin Discrimination
Describes preparing for a Compliance Evaluation: What the agency is determining, how contractors are selected, and the types of evaluations
Gives recommendations for conducting a self-audit in preparation for an OFCCP audit
Describes what is done in a compliance review and what might lead to an on-site review
Lists the types of Compliance Assistance from the OFCCP
Provides a special note to small contractors
Lists Key Words, Phrases, and Abbreviations
Provides description and contact information for the Ombudsman
Many pages on the OFCCP Compensation Reviews and court determinations
Other items mentioned in the guide of special note:
Race & Ethnicity Categories: Many may not be aware, but according to the OFCCP Regulations, the race and ethnicity categories are: African-American/Black, Asian/ Pacific Islander, Hispanic, American Indian/Alaskan Native, and White. However, the EEO-1 Report uses the following race and ethnicity categories: Hispanic or Latino, White (Not Hispanic or Latino), Black or African American (Not Hispanic or Latino), Native Hawaiian or Pacific Islander (Not Hispanic or Latino), Asian (Not Hispanic or Latino), Native American or Alaska Native (Not Hispanic or Latino), Two or More Races (Not Hispanic or Latino). The guide states: "OFCCP's regulations regarding the race and ethnicity categories to be used by contractors have not changed to reflect the new categories for race and ethnicity categories required for the EEO-1 Report. However, as a matter of enforcement discretion, OFCCP does not cite any contractor for noncompliance with Executive Order 11246 solely because it utilizes the categories required by the EEO-1 Report in records required by OFCCP regulations."

Later in the appendixes, there is further clarification that the OFCCP would generally not consider "Two or More" as either a favored or disfavored group "unless the agency's investigation reveals specific facts such that an analysis can be undertaken that avoids the analytical problems discussed previously…[they] may, at the Agency's discretion, be included in an adverse impact analysis to ensure that the overall selection rate in the adverse impact calculation reflects (to the greatest degree possible) the actual overall selection rate of the candidate pool."

The guide does not address reporting a non-binary gender. There is no further clarification beyond the agency's recent FAQ.
In the recommendations for creating job groups, the agency does not specify a recommended job group size, but states "At minimum, the job group should be large enough that when assessing underutilization in that group, a goal of at least one whole person can be established."
Regarding analysis of total minorities vs individual racial and ethnic groups, the agency specifies in the guide: "While availability analyses are generally done for minorities in the aggregate, as a best practice contractors should also look at individual racial and ethnic groups. This is particularly important in geographical areas where there is a stronger presence of one particular racial or ethnic group compared to others."

Later, the guide provides guidance on minimum size criteria when conducting adverse action impact analysis. It specifies that the agency "has put in place a practice that the group chosen as the favored group at desk audit must comprise at least 2% of the candidate pool". However, "Since asymptotic statistical significance tests of frequency counts…generally require expected counts of at least 5 to be considered valid, OFCCP chose 5 as the supplemental minimum size requirement for designating a favored group in adverse impact analysis. The compound threshold of 2% and 5 has performed well in several years of use in OFCCP audits." Further, the guide clarifies that contractors are not obligated to use the minimum size criteria described, stating "No new requirements are imposed on contractors by the existence of this appendix."

Within the description of Identification of Problem Areas, the guide suggests performing Impact Ratio Analysis (IRA), use of Job Area Acceptance Range (JAAR), and the EEO Trend analysis, which the agency sometimes performs in compliance evaluations, as explained in the Compliance Manual.
Within the description of Action-Oriented Programs, the guide specifies that they should be specific and results-oriented, giving detailed examples.
The guide states that contractors are able to develop and maintain either combined or individual Section 503 and VEVRAA AAPs.
Compensation Review: The guide specifies that "the CO is focused on answering three key questions:
Is there a measurable difference in compensation on the basis of a protected class?
Are the differently compensated groups of employees comparable under the contractor's wage or salary system?
Is there a legitimate, nondiscriminatory explanation for the difference?
Since the agency has announced upcoming Promotion Focused reviews, the guide does not appear to give further guidance on what the agency considers a promotion. The definition included in the Key Words Appendix has not changed: "Any personnel action resulting in, for example, the movement to a position affording higher pay, greater rank, change in job title, or increase in job grade; an increase in pay, requiring greater skill or responsibility; or the opportunity to attain such. A promotion may be either competitive or noncompetitive."
The appendix provides a sample Policy Statement for Employment of Spouses and Other Individuals Associated with Protected Veterans. However, the guide clarifies contractors are not required, but encouraged to post such a policy statement.
Berkshire's experts are still reviewing the document and will post any further insights in future blogs.