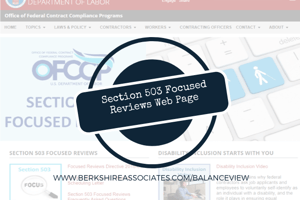 In yet another signal the agency is serious about focused reviews, OFCCP added a web page to its site that compiles a number of resources related to IWDs. The new page offers ten different items, including the following:
The focused reviews directive, Section 503 revised scheduling letter, and the agency's FAQs
A disability inclusion video, targeted to job seekers and employees, explaining why the IWD form is asking for the disclosure of a disability
A disability rights factsheet, which is a poster that can be included with other employee postings
A best practices document for creating an Inclusive workforce, with links to some programs at prominent employers
Section 503 regulations and resources, including technical assistance and the voluntary self-ID form
A reference document that explains to applicants and employees what to expect during the reasonable accommodation process
How to file a complaint under Section 503 and general OFCCP contact information.
Contractors are standing by for the release of a new Corporate Scheduling Announcement List, and a subset of those establishments selected for review are likely to receive a 503 focused review letter. Be sure your AAP is in place and ready for OFCCP review—they are on the way!
Check out the new OFCCP web page here.