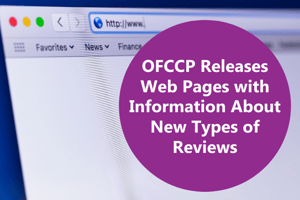 By now you have probably heard OFCCP released new Corporate Scheduling Announcement Lists recently. Included in this round were two new types of reviews: Promotion Focused Reviews and Accommodation Focused Reviews. To provide contractors some initial insight into these two new types of reviews, OFCCP has launched new landing pages for them. These landing pages provide an overview of the reviews and answers to Frequently Asked Questions.
Although the scheduling letters are not yet available, the Promotions Focused Review page indicates that the itemized listing will include submission of information specific to promotion opportunities, including the contractor's policies and practices and promotion-related data. OFCCP indicates these reviews will determine if "discrimination occurs at the intersection of race and gender." Contractors can also expect compliance officers to interview managers responsible for making promotion decisions and may also interview employees. OFCCP may try to determine if applicants are being steered towards lower paying positions that offer limited promotional opportunities, which may require an evaluation of hiring and compensation practices during a Promotions Focused Review.
The Accommodations Focused Reviews page outlines that these reviews will focus on religious and disability accommodations. OFCCP will be particularly focused on requests that have been denied. Based on questions seen thus far in the Section 503 Focused Reviews, Berkshire expects that OFCCP will also want to know how the contractor informs applicants and employees of the process to request an accommodation and how managers are trained to respond when a request for accommodation is received. FAQs include an overview of the requirements for religious and/or disability accommodation requests and the requirements of an undue hardship defense related to these accommodations.
OFCCP will be updating these pages over time as they continue to develop resources to help contractors understand their obligations and what OFCCP will be looking for during these types of reviews. Expect to see the proposed scheduling letter, best practices and resources, and sample on-site review guides to be added soon.