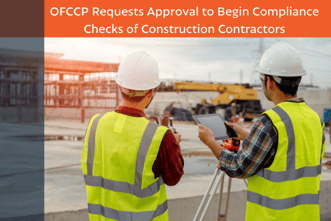 OFCCP has requested approval from the Office of Management and Budget to begin conducting compliance checks of construction contractors. The request contains two construction compliance check letters, one for contractors that have direct federal contracts and one for contractors on federally assisted construction contracts. A direct federal contract is one that is with a federal agency for construction services; a federally assisted contract is for construction services funded by the government, but where the government is not a party to the contract. This funding may be in the form of grants, loans, or other funding mechanisms.
For direct federal contracts, the OFCCP is requesting the following items in the compliance check:
Personnel records that list activity for trade employment (applicants, hires, promotions, layoffs, recalls, voluntary terminations, and involuntary terminations), including the name or ID number, job classification, gender, race and/or ethnic designation for each employee or applicant.
Payroll records for construction trade employees working on contracts in specific geographic areas and either Standard Metropolitan Statistical Area or the county / county equivalents during the specified review period. The payroll records should be submitted by project and include each unique identifier, gender, race/ethnicity, hire date, trade(s), total hours worked in each trade and overtime hours worked in each, wage rates for each trade, apprenticeship status, and employment type (e.g., full-time, part-time, etc.)
Examples of job advertisements and postings.
Examples of accommodation requests received, if any.
A copy of the current Section 503 AAP, and VEVRAA AAP, along with the documentation of the Section 503 and VEVRAA data collection analyses and most recently adopted VEVRAA hiring benchmark.
For contractors on federally assisted contracts, the proposed letters request all the items listed above except those associated with the Section 503 and VEVRAA AAPs, since federally assisted construction contractors are not subject to these regulations.
The Construction Compliance Check Letter Supporting Statement from the OFCCP can be found at https://www.reginfo.gov/public/do/PRAViewDocument?ref_nbr=201910-1250-002.