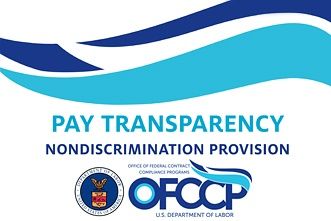 Office of Federal Contract Compliance Programs (OFCCP) has updated the required posting that federal contractors and subcontractors must use to notify applicants and employees of their right to discuss wages. The notice requirements apply to federal contracts and subcontracts that are covered by Executive Order 11246 and entered into or modified on or after January 11, 2016.The requirements prohibit employers from discriminating or retaliating against applicants or employees for discussing, disclosing, or inquiring about their compensation. The OFCCP's regulations, finalized in September 2015, require that contractors also disseminate a specific nondiscrimination policy statement to employees and applicants. Dissemination of the provision shall be executed by electronic posting or by posting a copy of the provision in conspicuous places available to employees and applicants for employment. Contractors also must incorporate the statement into existing employee manuals or handbooks.
OFCCP's revised posting merely adds the regulatory citation to the end of the notice (41 C.F.R. 60-1.35(c) and does not include substantive changes. However, because OFCCP regulations require that covered contractors use the exact language prescribed by the OFCCP, contractors should update all their existing postings and handbook policies. Contractors are free to add additional language to the OFCCP's required language, but, OFCCP has stated in the past that this policy must be a separate, stand-alone policy. Berkshire clients can find a template posting on the Client Community Portal. Links to the OFCCP's versions are available on the agency's website.
On March 15, 2017, Berkshire held a free webinar entitled, Closing the Gap: Strategies for Managing Pay Equity. This webinar covers recent pay legislation and practical advice on how to manage pay equity in your organization. Click here to see the recorded webinar.