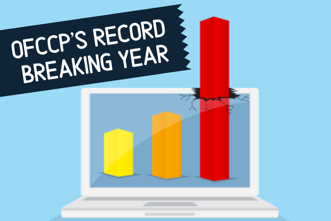 The OFCCP recovered a record amount in monetary damages in fiscal 2019, which came to a close at the end of September. The agency announced just over $45M in financial remedies, almost equally split between hiring and compensation discrimination claims. The agency indicates this is a $16M increase over its fiscal 2018 enforcement recovery. The number of audits completed is up over last year as well – while complete 2019 data is not yet available, the agency closed just over 800 reviews in 2018 and almost 1100 from October 2018 through the beginning of September 2019.
These enforcement statistics are unique for two reasons – first, there are some very high-profile contractors included in the settlements, including several in the financial services and tech industry, which OFCCP has previously identified as industries of interest. Second, some of these monies were recovered under the agency's new Early Resolution Process, where the contractor agrees to a monetary settlement that resolved several open audits, and the contractor is then not subject to compliance evaluations for a period of five to seven years. The size of the contractors exempted from reviews means other contractors, including smaller contractors who have largely not been on the agency radar recently, are more likely to appear on the agency's scheduling list.

In the announcement regarding the fiscal results, Director Leen said, "Through a combination of effective enforcement and proactive compliance assistance, OFCCP has made a major impact on ensuring equal employment opportunity for America's workforce, and will continue to do so in the upcoming year." Agency watchers indicate the pace of change at OFCCP will continue into 2020.