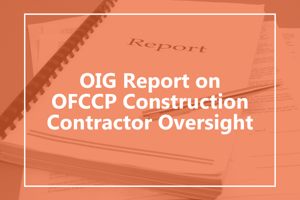 Recently, the Office of the Inspector General (OIG) released a report finding that the Office of Federal Contact Compliance Programs (OFCCP) did not show adequate enforcement of EEO and Affirmative Action requirements for Construction Contractors. OFCCP is responsible for monitoring and enforcing Executive Order 11246, Section 503 of the Rehabilitation Act, and the Vietnam Era Veterans' Readjustment Act, as amended (VEVRAA), for companies providing supplies and services to the Federal government, as well as construction contractors holding Federal or federally assisted construction contracts over $10,000.
To determine whether the OFCCP's enforcement was effective, OIG reviewed processes and data from October 2013 through March 2019. The investigation found two major issues: (1) The OFCCP did not use a risk-based approach for selecting contractors for compliance evaluations, and (2) the participation goals were based on 50-year-old US Census Bureau data.
Similar to its findings in 2016 for Supply and Service Contractors, OIG found that the OFCCP used methods for selecting companies for compliance evaluations that did not focus on contractors posing the greatest risks for noncompliance. The report asserts that with a risk-based approach, OFCCP might have identified more systemic discrimination than the 1% that was found during the period under review. As a result, OIG has recommended applying a risk-based approach to selection.
The other significant finding was that the data used to establish goals is based on 1970 US Census data, and the demographics of the US has changed significantly since then. There has been a 31.5% increase in ethnic minorities and 3.5% increase in women in the construction workforce. Since 1970, the overall population increased by 52% with the minority population tripling and the number of women in the workforce increasing by 9% to 47%. OIG recommends that the participation goals for minorities and women be updated and a process implemented to keep the data current.
In response to the report, OFCCP officials have said that they plan to implement a new case management system in FY21 that will allow for centralized construction scheduling and could be used to schedule contractors with the greatest risk of noncompliance. The agency has also committed to engaging the rulemaking process to update participation goals. However, OFCCP responded that participation goals are not quotas and their audits also review data collected from the contractors, such as percentage of hours worked, hiring and placement rates, and applicant records as a way to assess compliance with the regulations.
For construction contractors, this finding, along with other actions from OFCCP like the Construction Contractor Technical Assistance Guide, and the proposal to perform compliance checks means that OFCCP is much more likely to make EEO / Affirmative Action compliance for the construction industry a higher priority going forward. For the full report visit https://www.oig.dol.gov/public/reports/oa/2020/04-20-001-14-001.pdf