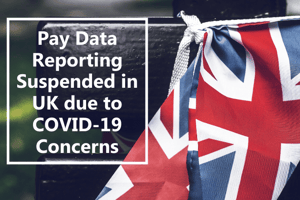 As the coronavirus continues to disrupt economies around the world, some governments are taking legislative action to ease regulatory expectations on businesses.
Before the global pandemic, employers with more than 250 employees in the United Kingdom scrambled to report their gender pay gap figures to the British government by April 5, or March 30 for public sector organizations. However, that was not the case this year when the British government announced that it would suspend enforcement of the gender pay gap reporting due to the "unprecedented uncertainty and pressure" faced by companies struggling to cope with lockdown measures.
More than 4,000 firms had already provided gender pay gap ahead of the cutoff date, which takes the form of mean and median hourly salary and bonus figures for men and women. The 4,000 companies represented less than half of the expected filings, which are now suspended for the 2019/2020 reporting year.
While advocates worry that this suspension could become permanent and create a step backwards for women at a time when the economic fallout from COVID-19 hits them especially hard, the British government announced that the one-time measure would not derail attempts to reduce the 17.9% average difference in pay between men and women.