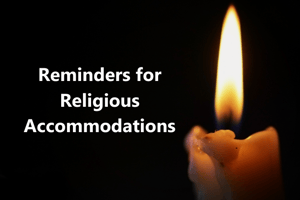 The Office of Federal Contract Compliance Programs (OFCCP) has added Accommodation Focused Reviews to the scheduling list to ensure compliance with the EEO laws. This focused review allows OFCCP to ensure that contractors are adhering to their obligations in the areas of religion and disability. There has been a lot of focus placed on disabilities and accommodations for those with a disability due to the Section 503 focused reviews. For contractors on the new list, it's important to review religious accommodations as well.
Some things to keep in mind for religious accommodations is that contractors are required to grant religious accommodation requests unless the contractor can demonstrate an undue hardship on the business. Unlike disability requests, documentation for religious accommodation is not required. There can be many types of requests for religious accommodations, some common ones are adjusting schedules for time off on specific days, prayer time during day, space for prayer, and allowing accommodations for facial hair, head coverings, etc.
During these focused reviews, compliance officers will be reviewing policies and procedures related to disability and religious accommodations. They will be reviewing policies and procedures, as well as requests and will be focusing on those that were denied. In addition, contractors should make sure that employees know how to request an accommodation, and managers are trained in how to respond. It is likely manager and employee interviews will be part of these focused reviews.
Take this time to update and review policies, educate supervisors and managers that may be making these decisions, and ensure accommodation logs are complete and up to date.
For more on DEI services, visit our main DEI page.