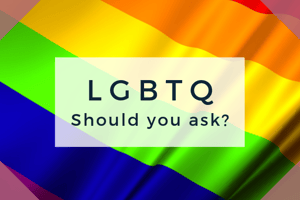 As we wrap up June and Pride Month, here is a somewhat relevant question we have been getting in some form more and more frequently: "Are we allowed to ask employees and applicants to identify beyond just the male or female genders?"
The short answer is: Yes, you are allowed to collect more than the binary genders.
While it is encouraged to embrace gender identity in your diversity and inclusion strategy, there are some important things to consider from a compliance perspective.
First, there has not been any determination under this current administration about analyzing beyond the binary genders. In fact, based on their definition of gender identity, the OFCCP and the EEOC's gender identity protections are only focused on transgender workers, individuals who do not identify with their gender assigned at birth. This means that the OFCCP and EEOC still view gender as binary—either male or female. It does not address those who believe there are options outside the traditional categories and do not identify as either male or female.
Additionally, AAP and EEO-1 reporting remains, and will probably remain for a while, collecting binary genders. If you are collecting beyond the binary genders, anyone who answers anything other than male or female will need to be visually identified: either by observation or through employment records or removed from the analysis—just like if they declined to identify. If you make this observation, how will you report on this information? You may need to keep two sets of records—one for internal purposes and one for federal reporting. This should be treated the same way you handle those who do not identify a race/ethnicity category reported for EEO-1 or AAP purposes.
Finally, always remember that employees should still have the option not to answer and contractors are not allowed to ask applicants or employees to prove their gender identity.
All of that being said, your organization may still look to create initiatives to be more inclusive of gender identity as part of your diversity and inclusion strategy. Here are a few tips to get you started, although a full initiative will go well beyond this.
Be sure to ask what is the business rationale for asking beyond compliance? How does it relate to your overall diversity strategy? Will employees feel comfortable answering?
Be sure your EEO/AA Statement of Policy is known and seen in the organization, showing your commitment not to discriminate on the basis of gender identity. Also review your anti-harassment language to make sure it includes gender identity.
If you will offer options on your self-ID form beyond male and female, change the question from "What is your gender?" to "How would you describe your gender identity?". Include options such as "Non-binary/third gender" and/or "Prefer to self-describe as ___".
Review and remove any gender specific designations in your employee handbook, processes, forms, website, etc. For example, rather than the statement "An employee must leave his or her work station in the case of a drill", it would read "Employees must leave their work station in the case of a drill".
In 2015, the U.S. Transgender Survey found that 33% of transgender individuals indicate they would prefer not to be assigned to either male or female gender. In June 2017, Oregon became the first US state to allow residents to identify as other than male or female on state driver's licenses and more jurisdictions will likely be joining them. With this changing landscape in our nation, employers should carefully consider their practices around gender identity as well.
To get OFCCP and affirmative action-related news delivered to your inbox, subscribe to this blog today!