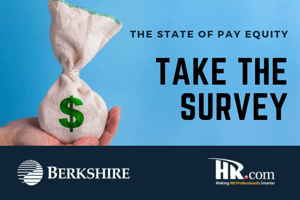 Berkshire has partnered with HR.com to conduct
The State of Pay Equity Survey.
We are inviting our clients and other HR professionals to participate and take the
survey
. All participants receive a free copy of the industry report before it is released to the public. Be sure to provide your email in the survey to receive the report!
As we all well know, issues of pay equity have become more critical, and more complex due to changing demographics and regulations. More importantly, they have evolved to constitute a growing component of employee satisfaction. By
participating
, you will be able to benchmark your company's position regarding pay equity, while simultaneously helping to ensure a more rigorous and helpful report for the entire HR community.
Berkshire's President, Beth Ronnenburg, is a member of
HR.com's Pay Equity Advisory Board
. The Board provides an opportunity for thought leaders on this topic to participate, share knowledge, and provide valuable insights that help to advance best practices in pay equity. Participating in this survey—which consists of seven brief sections—will help give us a better picture of the current state of pay equity.
Take the survey here
.
Survey Sections
A Snapshot of Pay Equity
Understanding the Pay Equity Gap
Analytics
Drivers
Plans
Basic Demographics
Optional Questions
Thank you in advance for your participation. For questions regarding this survey please contact us at bai@berkshireassociates.com or 800.882.8904.