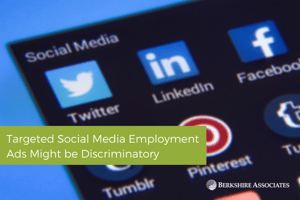 In December 2017, the Communications Workers of America (CWA) filed a lawsuit against several big businesses alleging age discrimination with the use of their social media advertising. Just recently the CWA added more companies to their list. The December suit named Amazon, T-Mobile, Cox Communications, and Cox Media Group. The recent amendment included Ikea and Enterprise Rent-A-Car.
Under the Age Discrimination in Employment Act (ADEA), it is illegal to discriminate against workers age 40 or over. This lawsuit alleges these companies paid Facebook to use an algorithm where ads could only be seen by potential employees who were under the age of 40, in violation of the ADEA. These types of targeted ads are commonly used in marketing. However, when used for job recruitment purposes it could be determined to be discriminatory.
Since this lawsuit was filed, some companies have altered their approach to targeted social media employment advertising. Companies who are currently using this approach, or are considering targeted social media advertising, should consult legal counsel before adopting targeted ads as a talent acquisition strategy.