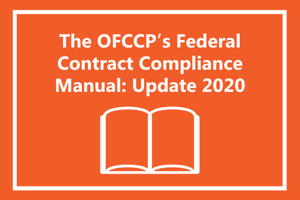 As per the continued efforts towards transparency of Director Craig Leen's tenure, the Office of Federal Contract Compliance Programs (OFCCP) has produced an updated version of the Federal Contract Compliance Manual (FCCM). This newly updated FCCM is now a completely electronic collection of web pages that links through the variety of content that reflects a multitude of changes to OFCCP regulations and practices. According to an agency communication, the FCCM was updated to "…ensure transparency and provide greater clarity for the user on a number of issues." How many issues, you ask? Glad you asked…
Prior to providing a bulleted list of the changes, the agency's recommendation is although they are providing quick reference points, the user should "read the entirety of the referenced section in which an update occurred." In other words, read the book, not just the Cliff's notes. Which brings us back to the original question on how many issues the updated FCCM addresses: since 2014, 109 components of the manual have been updated. That is a lot of changes! As always, we are here to break it out for you.
As Berkshire advised when the FCCM was last updated in 2014 (thank you, Cindy!), we are again providing with a cheat sheet of highlights, things to consider, and action items to operationalize in the near future.
Highlights:
New protected bases acknowledged throughout various chapters/sections of FCCM (sexual orientation; gender identity; discussing, disclosing, inquiring about compensation)
Added substantial new language and updated old language on Section 503 and VEVRAA nondiscrimination and affirmative action requirements
Desk Audits

Sections aligned with recent Directives
New language to describe evaluations of academic institutions
Directions for compliance officers (COs) when closing an evaluation at the conclusion of the desk audit

Tools for compliance officers which address:

Vets-4212 reporting
Mandatory job listing requirements
Development of AAPs as per the General Services Administration

On-sites

Discussions and procedures for analyzing compensation and pay transparency
Procedures for interviewing with a lawyer or management present

Complaints

Extended time for COs to perfect a complaint to 15 days
Must provide contractor a 10-day notice to comply with Title VII and Section 503
Clarification of:

Legal procedures related to notice-of-right-to-sue
OFCCP seeking punitive and compensatory damages when acting as EEOC's agent
Things to consider if you find yourself on the CSAL:
What does your company look like in the System for Award Management?
Are you ready to consider a FAAP?
Are you compliant with all annual reporting requirements (e.g. EEO-1s, Vets-4212)?
Be familiar with the Desk Audit sections of the FCCM well in advance of receiving the scheduling letter.
Gather information about outreach (including evaluations), reasonable accommodations, personnel processes, and qualifications review.
Review Chapters 1-6 of the FCCM.
Action Items:
Complete the current plan, if not already complete. If the current plan is more than 6 months into the plan year, consider doing an update plan.
Review all policies, procedures, and web pages with content related to affirmative action programming.
Develop virtual training sessions for all those with responsibility for implementation of the affirmative action program components to assure understanding of those responsibilities.
In closing, we echo the advice of the agency: do not let their notes or this blog be the end of the road for your exploration of the updated FCCM. For those on the CSAL, review the sections to enhance understanding of what will happen once that scheduling letter arrives. For those contractors not currently on the CSAL, consider using the FCCM as a litmus test to evaluate the current affirmative action program and then proactively enhance areas of the program found to show opportunity.