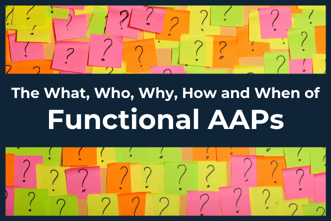 Previously, OFCCP issued a directive updating the creation and maintenance of Functional Affirmative Action Plans (FAAP). FAAPs are available for use in lieu of establishment (location based) based AAPs.
What is a Functional Affirmative Action Plan?
FAAPs are permissible under Executive Order 11246, Section 503 and VEVRAA and allow a contractor to set up their AAPs based on company functional or business units (or something other than location). This allows the contractor to analyze data by the various operations rather than location, which may align more closely to their corporate structure. Under the new Directive, contractors with a functional agreement are no longer required to undergo a compliance evaluation during the term of the agreement. This does not mean that a contractor with a FAAP agreement can't be scheduled for an evaluation, it just means that it is no longer mandatory. Additionally, there will be a minimum of 36 months between compliance evaluations for a functional unit. Establishment based AAPs have a minimum of 24 months between compliance evaluations.
Who should consider a FAAP?
First, the company should be easily organized into functional areas. If the company reorganizes often, it may not be a good FAAP candidate. Second, the personnel actions for the company should be easy to determine by function. If the data is not easily identifiable by the functions, it will be difficult to perform analysis on the data. Third, each functional plan must exist and operate independently with its own managing official. And finally, each functional unit must have at least 50 employees.
Why would a contractor want to use a FAAP?
FAAPs allow a company to represent decision making based on a functional chain of command rather than assuming all decisions are made at a single location for the employees in that location. For companies with functions that are housed out of many locations or with many remote employees, a FAAP may be easier to administer and more in line with their corporate structure. A contractor may also choose to do a combination of functional and establishment-based AAPs. A manufacturing company, for example, may choose to do establishment-based AAPs for its manufacturing plants and distribution centers, but may choose to do functional AAPs for Sales, Marketing, Finance, Procurement, etc.
An important point to consider is the size of the resulting FAAPs by employee count and the potential for increased liability during an audit.
How is a Functional Affirmative Action Plan set up?
FAAPs are set up under an agreement with OFCCP. The agreement outlines the functions that the contractor plans to use, who is the leader of the function, the number of employees in the function, the address of the function and a general description of the function. Once in place, the contractor is required to notify OFCCP when substantive changes are made to a function or a function is eliminated. FAAP agreements are good for five years, however a contractor can request to end a FAAP with 90-day notice and return to establishment-based AAPs. Other than the functional structure versus the location structure, all other elements of an AAP are required for a Functional Plan.
When can a FAAP be set up?
Since FAAPs are agreements between the contractor and OFCCP, there are timeframes to be aware of if considering a FAAP. New contractors have 120 days to get their arrangements set up with OFCCP. If the agreement is not in place, contractors will have to consider traditional establishment-based plans until the agreement is signed. Once submitted, OFCCP has 60 days to respond to the request. If a contractor who currently uses Establishment Based AAPs wants to set up a FAAP agreement, it is recommended to submit the request to OFCCP at least 120 days prior to the expiration of their current AAP.
For more information about the Updated FAAP Directive, click here.