Job hiring in 2015 continued at a rapid pace and ultimately resulted in the United States' unemployment rate dropping down to five percent on average. While the increased number of hires shows the economy is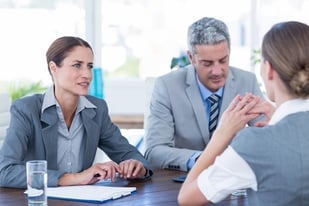 healthy, an HR department can still find itself having trouble with hiring practices. Keep in mind these tips as you begin the hiring process in 2016:
1. Picking the right candidate
Hiring the perfect employee can be challenging. According to a survey from Spark Hire, 52 percent of hiring personnel agree picking the right candidate is the most difficult part of the process. Every new year brings resolutions with it, and improving the most important step in hiring an employee should be a priority on your list.
"Using a video camera can help you sift through large amounts of candidates."
Using a video camera during the interview process can allow you to review footage of a particular candidate when making a decision. This comes in handy when the interview process lasts weeks instead of days because of the volume of applicants. It can also serve as a refresher if you're on the edge about a particular person.
Applicant tracking software (ATS) can further increase the efficiency of the process and allow you to sort applicants based on certain merits on their résumé. Using the technology available on the market can help keep a decision objective, rather than gathering thoughts from your memory of the interviews as the basis for a hire.
2. Landing top talent
Some industries have a smaller talent pool than others and securing top talent can be difficult. The Spark Hire survey reported that 18 percent of candidates reject the first offer in hopes of negotiating a better one. If your company refuses to negotiate salary, it could be a reason why it's losing out on top talent. However, 45 percent of employers expect the initial offer to be turned down and are comfortable negotiating.
If you're on the other side of the employer statistic, it may be time to consider exactly how much you value top talent. If you're filling a position where the candidate needs to have a number of prerequisites, be prepared to offer them a higher amount than you initially thought might be acceptable. If this is out of the budget, consider asking for more money to recruit better talent.
"An ATS will allow you to spend the saved time on other tasks."
3. Time management
The clock can pose a problem for HR because there are only so many hours in the day. On top of posting job openings across many websites, HR is also tasked with reading through the mountain of résumés that pour in, conducting interviews, and handling paperwork. It can be a high-octane job—42 percent of employers say they take longer than an hour to post an opening across all the job finder websites.
Streamline your job posting process by utilizing applicant tracking software (ATS) to categorize résumés. Once you've made the post, the software will handle sorting them and the rest of the minor details. It frees up valuable time to spend elsewhere without giving up order in exchange for chaos.
Above all, make sure this is the year of the candidate. According to Career Builder, 52 percent of employers say they get back to less than half of the candidates who applied. This leads to bad PR for the company, and ultimately people who will stop using the business' products or services. Use an ATS to consolidate and automate parts of the hiring process that it can handle, and use that time in places where human interaction is the key to success.