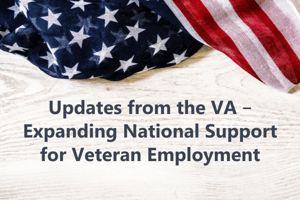 At Berkshire, we frequently receive questions about how best to source candidates to support diversity initiatives in the workplace. It's a universal challenge in the affirmative action space – and it doesn't have a one-size-fits-all solution. But we've got some good news!

We recently spoke with Michael Poyma, National Employment Coordinator at the U.S. Dept. of Veterans Affairs (VA), and we've learned that the VA has been expanding some of their employment services to connect veteran job seekers with diversity-focused employers like you.

The Cultural Gap



At the department of Veterans Affairs Veteran Readiness and Employment Programs (VR&E), staff members like Michael have made it their life's work to understand the challenges that veterans face and connect them with employers who are seeking out a candidate with their respective skill sets.
The biggest challenge? The cultural gap that often alienates service members or veterans from the civilian employment sector.
"The prominent military – civilian cultural gap has been a central focus for us as we approach employment solutions," explained Michael. "What it is, is a gap of understanding. It's no different from other cultural gaps in our world – gender, ethnicity, disability."
And Michael speaks from experience, as he has lived much of his life as a veteran with disabilities.
"I remember that day when the gates of the military closed behind me, and I was, quite frankly, really scared about going home because I didn't know what I was going to do."
Changes at the VA
Things are changing rapidly, however, at the VA. This summer, the Department created a dedicated team of about eight full-time employment coordinators to manage veteran employment work on a national scale.
"Before this team was created, you had 70-80 localized employment coordinators -- maybe one in each state, and we loosely knew each other but there was no cohesive strategy to streamline employment opportunities until now," Michael explained. "Now we are definitely building a much more structured framework that has us at the national level connecting veterans with employers and employment services regionally and on the local levels."
Historically, VR&E – formerly known as Vocational Rehabilitation & Employment – has been misunderstood and misrepresented because of its moniker. Even the term "rehabilitation," Michael notes, carried negative connotations.
But in the summer of 2020, Executive Director for VR&E William Streitberger proposed a deliberate name change to better reflect the intentions and work being done in the Department – renaming it to "Veteran Readiness and Employment Programs."
"Veterans can relate to readiness," Michael explained. "And our focus today is to mitigate the negative impact of disabilities and coordinate employment opportunities for veterans based on their abilities, their aspirations."
Hiring Veterans Today




Veterans bring a unique set of strengths to the workplace; attention to detail, ultimate professionalism, leadership training, and objective decision-making are just a few of the characteristics, Michael said. And veterans are particularly strong when it comes to learning new skills and engaging in training for new competencies.
"But these characteristics are not necessarily the same as job qualifications," Michael explained. "You can't just show up at a job interview and say: give me a job and I will do it well."
Instead, the VR&E team seeks to build real relationships between employers and veterans – relationships that frequently culminate in employers finding the right candidate for a position.
So as an employer looking to source more veteran candidates, where should you start?
Michael encouraged Berkshire clients and followers to email him directly to begin this conversation. Through that channel, he can direct employers to the right place for their specific needs.
He also manages a side project – outside of the VA's purview – called InvestVets, a nonprofit that focuses on re-framing the business model of the standard "job fair" to create networking opportunities that center around cultural exchange.
"What I have learned and tried to implement in my years working with veterans is to focus on cultural exchange," Michael said. "I'm a veteran. I'm a disabled veteran. I am also a veteran advocate. I love being able to know that what I do on a daily basis impacts veterans in a positive way. And I want to be a resource to employers seeking to do the same."
To get in touch with Michael and his team, send him an email at Michael.Poyma@va.gov.
To learn more about InvestVets, send an email to info@investvets.org or visit the website here.