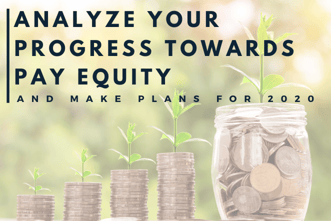 The pay equity movement made big headlines in 2019 thanks to several high profile pay discrimination cases, EEO-1 Component 2 pay data collection, and significant activity at the state level to enact pay equity legislation. However, gender pay gap surveys reported that in 2019 women are still earning 79 cents for every dollar that men make. To see the gender pay gap and pay equity law in your state(s), excellent interactive resources are made available by The American Association of University Women (AAUW). AAUW is a nonpartisan, nonprofit organization with a mission "to advance gender equity for women and girls through research, education, and advocacy" with a vision for "equity for all."
Berkshire also made significant movement to help companies in their progress towards pay equity. We spoke about pay equity at SHRM19 Annual Conference, hired Renzo Massari, Ph.D as Pay Equity Manager, and joined the HR.com Pay Equity Advisory Board.
Through the Advisory Board, Berkshire was able to survey our clients on The State of Pay Equity 2019. We had a 64% response rate and of those respondents, we are excited to report that over 75% rate their organization as Excellent or Good in the area of pay equity. 62% believe their organization will become more equitable over the next two years. However, only 30% reported their organization has having remedial plans in place to detect equity gaps, while 70% either do not or do not know.
What is the state of pay equity in your organization? If you're not sure or believe your organization needs to improve, please contact us to discuss our Pay Equity services. We are here to help you analyze your progress and make a plan towards pay equity in 2020!