Published: August 2016
Tracking applicant data is an important component of compliance with federal affirmative action requirements. Not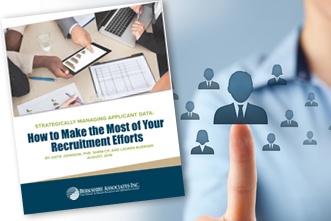 only is it required, but if done strategically, it can provide valuable insight into your company's hiring practices and help mitigate compliance risks. With the latest applicant tracking system (ATS) technology available, collecting massive amounts of data is commonplace. Knowing what all this data means and how to use it to your advantage is where the challenge lies.
To help you overcome the challenges of analyzing large amounts of data, read Berkshire's white paper, "Strategically Managing Applicant Data: How to Make the Most of Your Recruitment Efforts." This white paper offers expert advice on the importance of effective applicant data collection and analysis so you can develop a strategic and compliant applicant tracking process.
This informative white paper discusses:
Applicant data tracking is one of the most challenging pieces of developing a compliant affirmative action plan. From this FREE white paper you will learn how to develop a strategy which properly tracks applicants, and provides insight into your hiring process, all while fulfilling your compliance needs.