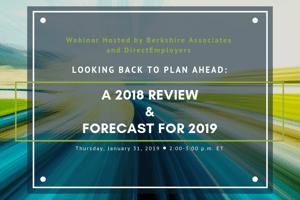 Duration: 60 minutes
Cost: Free
Recorded: January 2019
Presenter: Beth Ronnenburg, President of Berkshire Associates
View this free webinar hosted by Berkshire Associates and DirectEmployers as Beth Ronnenburg, President of Berkshire Associates, reviews OFCCP changes and their impact on the contractor community.
Thinking back on the last year, 2018 was one for the books. As we got acclimated to the current administration we faced a new set of changes when OFCCP Director, Ondray Harris stepped down and Senior Advisor, Craig Leen stepped in.

When Harris took the director position he set a tone of change within the OFCCP with the induction of new resources and transparency to help contractors better comply. Acting Director Leen did not deviate from the plan once he took office in July. During this webinar Beth shares insight on the 2018 directives issued and how the new directives will impact contractors during audits and the anticipated focused reviews. Webinar viewers will leave with a better understanding of how these changes my affect them and a forecast of what compliance enforcement efforts will look like 2019.
Topics covered include:
• Review of OFCCP leadership and policy/practice changes
• Understanding how the new directives impact your compliance efforts
• What to expect from compliance reviews
• Preparing for what's to come 2019
To learn more about this webinar, or if you need assistance with OFCCP compliance, contact us at 800.882.8904 or webinars@berkshireassociates.com.