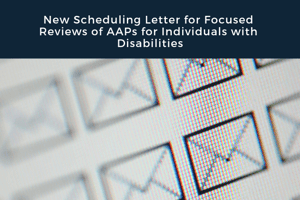 OFCCP has received approval for a new scheduling letter to be used for focused reviews of Affirmative Action Plans (AAPs) for Individuals with Disabilities (IWD) under Section 503 of the Rehabilitation Act of 1973. The purpose of the more focused reviews is to reduce the burden on contractors by limiting the scope of the review. According to the OFCCP, "A focused review is smaller in scale compared to the compliance review that is initiated when a contractor receives the Scheduling Letter/Itemized Listing." The focused review narrows the focus to about one-half of the information requested on the standard Scheduling Letter/Itemized Listing.
A preview of the new scheduling letter for the focused reviews reveals that OFCCP will be asking for a copy of the current AAP for Minorities and Women under Executive Order 11246 in addition to the Section 503 AAP, along with supporting documentation and analyses. Contractors who have already received a Courtesy Scheduling Announcement List (CSAL) letter will be audited based on the existing methodology. However, new scheduling lists, anticipated to go out in early 2019, will include some Section 503 focused reviews.
Contractors should ensure their AAPs are up-to-date and that, especially for the AAPs for IWD, evaluation of outreach and recruitment efforts and reasonable accommodation practices are well documented. Should you need assistance assessing your organization's readiness for one of these focused compliance evaluations, feel free to reach out to your Berkshire Consultant.