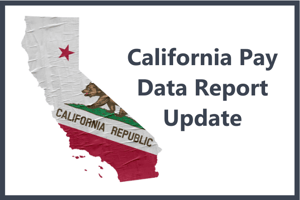 In October we published an update about a law signed by Governor Gavin Newsome which requires all private employers with 100 or more employees in California to submit employee wage information on an annual basis. The first reporting year will be for 2020 and will be submitted by March 31, 2021.
Recently the California Department of Fair Employment and Housing (DEFH) released some details:
The agency anticipates rolling out a secure online reporting system in advance of the March 31 deadline. This system will closely resemble the EEOC's Component 2 system.
Data must be submitted in a format that allows for searching and sorting the information using readily available software – for example as a comma-separated values (.csv) file.
Vendors who are interested in developing the system have until November 10, 2020 to respond to the agency's Request for Offer.
Standard forms will be issued by DEFH to assist employers in submitting pay data reports.
DEFH is prohibited by law from making individually identifiable information public in any manner. The agency may develop and publish annual reports aggregating information received under the requirements of this law.
Data from these reports will be maintained for not less than 10 years.
DEFH has a website dedicated to their pay data reporting requirements where updates and guidance will be made available. They also have an email address for questions not answered on their site. Berkshire continues to work with DEFH to get answers for questions related to this reporting requirement. If you have any questions, please reach out to your dedicated Berkshire consultant, and watch this space for updates as they become available.