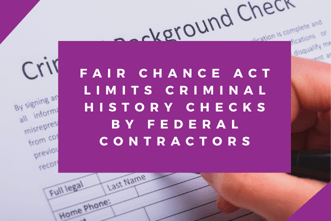 The Fair Chance Act, enacted as part of the National Defense Authorization Act for Fiscal Year 2020, prohibits, with limited exceptions, federal contractors from inquiring about the criminal history of an applicant for a position related to work under a federal contract until after a conditional job offer is extended.
Contractors may seek such information pre-offer in the following situations:
Where consideration of criminal history information prior to a job offer is otherwise required by law
Where the contract "requires an individual hired under the contract to access classified information or to have sensitive law enforcement or national security duties;" and
For other positions to be identified in regulations to be issued no later than April 2021
The Fair Chance Act also provides that the General Services Administration will establish procedures under which an applicant for a position with a Federal contractor may submit a complaint regarding a contractor's compliance with this requirement.
This new requirement does not go into effect until December 20, 2021 and will apply to federal contracts awarded pursuant to solicitations issued after that date.