The regulations requiring federal contractors to track good faith efforts of outreach to targeted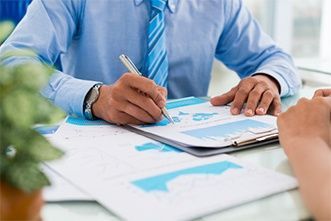 groups have been in effect for over two years. However, federal contractors and subcontractors are still facing challenges with meeting the requirements—especially when it comes to tracking their efforts. With that in mind, here are five tips for effectively tracking your good faith outreach efforts:
1. Document Everything
Documenting everything will help with Office of Federal Contract Compliance Programs' (OFCCP) follow-up questions during an audit, should they arise. Here are some of the things you should be documenting:
Save any documentation of the outreach effort—whether it's a flyer, screenshot of an Internet posting, email exchanges, etc.
2. Do More than Just Post Job Openings
Most recruiters know the difference between getting a large number of applicants versus getting a small number of qualified applicants. The same goal can be applied in your good faith efforts. While OFCCP's review of your good faith efforts can vary depending on the compliance officer, the majority of reviews are focusing on the quality of the efforts, rather than the quantity. Yes, you can post a job on many job sites to increase your applicant pool, but what else can you do? Outreach is about more than posting jobs—contractors should be forming partnerships with organizations. Some examples include:
Volunteering at an event for IWD
Sponsoring an organization in the community
Donating supplies to a women's shelter
Inviting community members who assist with job placement for PV, minorities, women, or IWD to tour your facility
Track all of these efforts! You may want to work with your Marketing Department as the good faith efforts sometimes might cross over into some of their initiatives. The goal is for others to recognize your company as one who is committed to hiring a diverse workforce.
3. Evaluate the Effectiveness
The most important part of the regulations is the evaluation of the outreach effort. OFCCP doesn't just want to see how you made the good faith effort, but rather how it turned out. Did the source or activity get you any qualified applicants? Did the activity result in the hiring of qualified individuals in the targeted group? If not, OFCCP expects you to reevaluate your strategy and try something different.
4. Focus on Quality, Not Quantity
One way you might evaluate the effectiveness is to look at how many applicants came from a source. However, you need to be careful with this. Most applicant tracking systems (ATS) offer a "referral source" field where the applicant can specify where they originally heard about the job. If the options are from a drop-down menu, the job seeker might just pick the first option. If the field is optional, the job seeker might skip it. Often, job seekers might have seen the job posted in multiple locations. Or the job seeker will provide the search engine that pulled the posting from where you actually posted it. As you can see, the true referral source can be hard to track.
OFCCP is looking for quality—not necessarily quantity—in your evaluation, too. Did the activity expand your organization's outreach in the community? Did the activity increase your organization's capacity/capability to include protected classes in its workforce? If so, even if the quantity was low, of those who disclosed they were referred to apply through the source, it might still be worthwhile to continue the good faith efforts. For example, you might say "we had 10 qualified applicants from Job Posting A, but only two from Job Fair B, so we're only going to use source A in the future for Veteran outreach." However, even though Job Fair B only provided two qualified applicants, if it was still very well attended, it got your company's name out there. In the future, job seekers will remember your company is dedicated to hiring Veterans.
5. Use Technology
HR technology can make a world of difference for the recruitment professional. Manually tracking your applicants and good faith efforts can be time-consuming and ineffective. Using an ATS is a great way to streamline your processes, and with the right one—like Berkshire's BALANCEtrak—you can help remain compliant. Berkshire also provides a tool called REACH which tracks your good faith efforts. Multiple users can go into the system, log an activity or source, evaluate its effectiveness on a star-based scale, upload supporting documents, and record contact information. All this information can then be directly imported into the affirmative action plan. Often, recruiters won't know what you mean by "good faith efforts," but they know what recruitment sources were used. REACH bridges the gap between "recruitment language" and "affirmative action language" to ease the burden of collection.
To learn more about the best ways to track your good faith efforts, or to take a look at Berkshire's BALANCEtrak or REACH, please contact us today at 800.882.8904 or email bai@berkshireassociates.com.