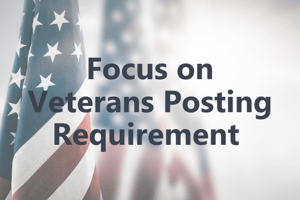 The OFCCP is very active sending out audit letters. Your Affirmative Action plan might be done, but do you have the documentation for your job listing with the Employment Service Delivery System? Below is a frequently asked question on the OFCCP website.
What is the mandatory job listing requirement under VEVRAA and how is it different from a job posting?
The VEVRAA regulations clarify what contractors must do to satisfy the job listing requirement in VEVRAA. The regulations require that contractors must provide job listing information in a format that is permitted by the appropriate employment service delivery system (ESDS). This means, for example, that if the ESDS requires electronic transmission through a web‐based form, the contractor must provide its job listings in this way. If the ESDS accepts job listings electronically, by fax, or by mail, then the contractor can provide its job listings in any of these formats. At the time of its initial listing, contractors must indicate that they are a federal contractor that desires priority referrals of protected veterans for job openings. Contractors must also provide the ESDS with contact information for the official responsible for hiring at each hiring location in the state. This official may be a chief hiring official, a human resources contact, a senior management contact, or any other appropriate official. Contractors must provide the ESDS with updated information at the time of its next job listing should there be changes to any of this information.
A job posting is an additional recruitment tool that can be conducted simultaneously with the mandatory job listing. While job postings are not required by the regulations, they may be used as part of a contractor's outreach and recruitment efforts for protected veterans if they are placed with a veterans' job bank or similar service.
Most open positions for external candidates should be posted with the State employment service, though there are a few exceptions. Contractors do not have to post executive level positions, positions filled internally, or positions that will last three days or less. Be sure to retain "proof" that the open positions were listed, as this is a typical request in an OFCCP audit. Is the information easy to retrieve? A best practice would be to download/receive the information on a quarterly basis or to take screenshots one a quarter, if you are not able to provide a report that positions are posted. Be sure to save the confirmations in a secure HR folder.
For Veteran questions or other OFCCP concerns, reach out to your Berkshire consultant!