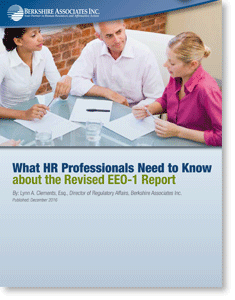 In 2016 the Equal Employment Opportunity Commission (EEOC) announced revisions to the EEO-1 Report that will require most organizations to submit employee pay data to the federal government annually. The new requirement begins with the 2017 EEO-1 reporting cycle, and will be due by March 31, 2018.
Lynn Clements, Berkshire's Director of Regulatory Affairs, and former policy advisor at the EEOC, explains what HR professionals need to know about the revised EEO-1 Report. This paper outlines what changed in the reporting requirements, what didn't change, and what companies need to consider as the new reporting requirements are implemented.
Topics covered include:
Who must file the EEO-1 Report?
When does it have to be filed?
What pay data must be submitted?
How will the government use this information?
What should employers do to prepare for the changes?
This expert summary gives you want you need to know to stay compliant in today's changing regulatory environment. Click here and download today.