This article is part of a series teaching you how to Get the Hire You Desire.
The ability to attract and retain top talent is an on-going task of the HR Professional. Social media networks, career pages, and marketing/promotional content are venues from which your employer brand and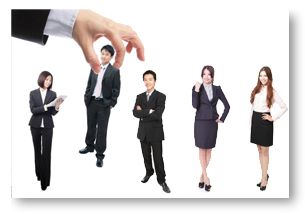 job openings should be shared, but with the potential of hundreds of visitors to each it is easy to become inundated with potential candidates. Numerous applications sound great until you quickly realize the majority of those candidates are unqualified. It's also possible for those venues to be utilized in what you believe is the proper way, and still lack a response or interest from your target audience. To improve the recruitment process and to increase candidate interest in your company, set in place a strategic recruitment process to get the hire you desire!
Strategic recruitment refers to a well thought-out plan that properly fulfills the needs and desires of your company. Here are a few elements to include in your strategic recruitment process:
Employer Brand: An organization's employer brand is its defining message to the world. Not only will an attractive employer brand make your organization more noticeable, it is often the persuading factor for job seekers. To attract an audience, your employer brand should express a fun, innovative, ambitious, and comfortable company culture. Enhance your employer brand through videos, pictures, and social media use.
Identify Target Audience: A target audience is the group of people to whom you are trying to aim your message. When recruiting, a target audience is absolutely vital. If you are hiring a Marketing Specialist, you do not want to cater to an IT audience. Having a target audience will narrow down your candidate pool, and assist you in properly creating and distributing your content to appeal to the desired candidate.
Social Media Networks: Social media is not only used to keep up with friends, post selfies, and watch videos—it's role has expanded and become a go-to arena for job seekers and employers. The use of social media sites such as LinkedIn and Facebook allow recruiters to join and post content to groups with a shared interest—groups that are often comprised of eager job seekers. This is beneficial because it allows recruiters to hone in on their target audience. When using social media during the recruitment process, keep in mind the risks involved and read "Four Tips for Protecting Your Organization from Social Recruitment Risks" for more information.
Job Descriptions: Make sure job descriptions use proper language and explanations of job requirements. Significantly decrease unqualified applications by clearly stating job requirements, expectations, and duties in the job description.
Extensive Interview Process: You've looked through all the résumés, narrowed down your top candidates, and now are preparing for the interviews. The end is near, and as tempting as it may be to sprint to the finish line, this seemingly last leg of the race should be viewed as the start of another. The interview process should be slow, steady, and well thought-out. Yes, it is important to fill that position to ease the workload of other employees or yourself, but don't let all your previous recruitment strategies go to waste by rushing through the interview process and choosing the wrong candidate. Here are some tips to remember during the interview process:
Take the time to fully read over the candidate's résumé to ensure your ability to ask specific, detailed questions.
Pose a sample scenario question. Ask candidates how they would handle specific problems or issues to understand their thought process, ability to respond quickly, and test their problem-solving ability.
Include colleagues in the process. Consider a multi-stage interview, allowing team members to meet a strong contender to make an accurate cultural-fit conclusion.
Ease the recruitment process and get the hire you desire by remembering these strategic recruitment tips!