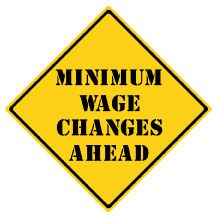 The minimum required wage for certain federal contractors and subcontractors will increase on January 1, 2018, from $10.20 to $10.35 per hour. Executive Order 13658 requires employers with certain federal contracts pay employees performing work on or associated with the contracts to be paid at least the federal minimum wage for contractors.
Contracts covered under Executive Order 13658 include the following:
(1) A procurement contract for construction covered by the Davis-Bacon Act (DBA)
(2) A contract for services covered by the Service Contract Act (SCA)
(3) A contract for concessions, including any concessions contract excluded from coverage under the SCA by Department of Labor regulations at 29 CFR 4.133(b)
(4) A contract in connection with federal property or lands and related to offering services for federal employees, their dependents, or the general public
Federal contractors should be prepared to increase the wages of workers working on, or in connection with, contracts impacted by the Executive Order. Employers are also required to notify workers of the minimum wage rate. The sample poster has not yet been updated on the Department of Labor website but was published in the Federal Register as Appendix B. To review the full document here.