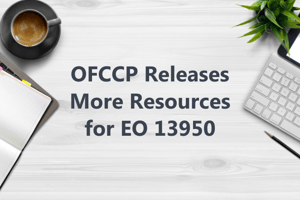 To clarify details for contractors, OFCCP has launched a dedicated page for Executive Order 13950, the EO issued in September 2020 intended for "Combating Race and Sex Stereotyping." The page directs contractors to the Frequently Asked Questions previously released and adds a phone number for reporting complaints as well as a dedicated email for individuals or groups to reach out directly to OFCCP.
This week, the agency released the Request for Information (RFI) that was mandated in the Order. The RFI was published in the Federal Register and OFCCP held a stakeholder stakeholder call to clarify questions about the RFI and implementation of the EO. The call lasted about 20 minutes and was a prepared question and answer format. Director Leen reviewed the OFCCP landing page and the other resources available and distinguished between filing a complaint and responding to this request. He indicated the hotline is for individual "whistleblowers" to file a complaint against a contractor and assured confidentially for anyone using the hotline.
Conversely, the RFI is not meant to be anonymous and Director Leen encouraged contractors and members of the public to provide actual trainings to assist OFCCP in generating compliance assistance materials and FAQs. He reiterated that any contractor-provided materials in response to the RFI would be approached from a compliance assistance perspective, allowing the OFCCP to review the materials and make a recommendation in terms of compliance with the EO. He indicated no enforcement actions would arise from responses to the RFI unless contractors continued to use a training that violates the EO. He was clear that if the agency receives a complaint about the training or sees it in used in a subsequent compliance evaluation, the agency would take appropriate action at that time.
Director Leen closed the call by outlining how EO 11246 and 13950 complement each other and should be read together. He reinforced his commitment to transparency and open communication with the contractor community and ended the call with an Impassioned reminder that all employees, regardless of race or gender, deserve to be treated fairly and advance in their career based on merits and qualifications rather than personal characteristics. The RFI is open for comments until December 1, 2020.
For additional information about Executive Order 13950, refer to our previous blogs:
https://www.berkshireassociates.com/blog/faq-for-executive-order-13950-now-available-on-ofccp-website
https://www.berkshireassociates.com/blog/new-executive-order-bans-certain-workplace-trainings-by-federal-contractors
https://www.berkshireassociates.com/blog/ofccp-complaint-hotline-to-combat-race-and-sex-stereotyping