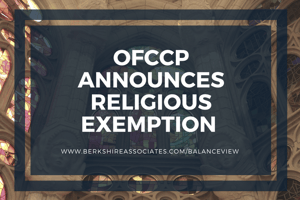 Several new pieces of guidance came out during and following the NILG conference held earlier this month. A few notable directives include the Contractors "bill of rights" and the directive about focused reviews in fiscal year 2019. Berkshire clients should also note the recent directive issued addressing OFCCP's new plans to address religious organizations under its jurisdiction.
OFCCP's Acting Director Craig Leen issued directive 2018-3, which brings OFCCP policy in line with two Executive Orders issued in the past year that give broad leeway to religious organizations regarding compliance with federal regulations.
Among other items included in the directive, OFCCP staff should remember and take into account that:
They "cannot act in a manner that passes judgment upon or presupposes the illegitimacy of religious beliefs and practices" and must "proceed in a manner neutral toward and tolerant of ... religious beliefs."
"[A] federal regulation's restriction on the activities of a for-profit closely held corporation must comply with [the Religious Freedom Restoration Act]."
They must permit "faith-based and community organizations, to the fullest opportunity permitted by law, to compete on a level playing field for ... [Federal] contracts."
For a recap of the highlights from the NILG conference by Berkshire's Lynn Clements, access this free webinar.
Questions?
Contact your Berkshire consultant if you have specific questions about how to best prepare for the expected agency changes and how developments from the conference will affect your organization.
If you're interested in learning more about Berkshire's affirmative action services, contact us at 800.882.8904 or bai@berkshireassociates.com.