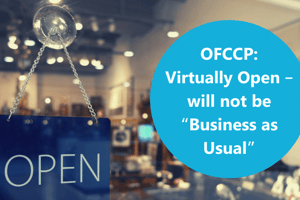 During the past few weeks, Office of Federal Contract Compliance Programs (OFCCP) has been operating remotely and has adjusted to the new normal. According to recent NILG communications, OFCCP is continuing operations "to the extent feasible" and has adopted the following protocols for the benefit of contractors:
Grant an automatic 30-day extension for submission of Affirmative Action Plans (AAPs) after receipt of Scheduling Letter
Grant an additional 30-day extension to contractors who submit their written AAP narrative within 60 days of receipt of Scheduling Letter (i.e. provide another 30 days for submission of all data reports and analyses)
Grant 14 days, and more commonly 30 days, for contractor response to information requests, with opportunity for further extensions as needed
Conduct Section 503 focused review onsite via video or phone conference only until contractors begin resuming normal operations
If contractors have concerns about receiving the scheduling letter during the pandemic when their offices are closed, and would rather receive the letter via email, they should provide an email address to the applicable Regional Office via email. Contractors providing this information will receive the Scheduling Letters via email in addition to the mailed copy. Regional office contact information is available here.
OFCCP has indicated a willingness to grant additional extensions to contractors impacted by the pandemic. Contractors can contact the OFCCP Ombudsman by phone at (202) 693-1174 for assistance.
Berkshire's audit team has seen reasonable deadlines and a willingness of the agency to work with contractors who are assisting with the response to the pandemic or are operating with reduced staff. We are continuing to monitor how audits are impacted by the current situation and will provide updates as there is new information to provide.