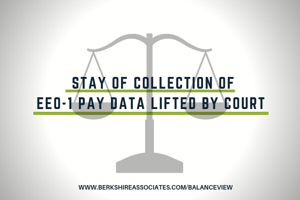 The EEOC opened the reporting site on March 18 as planned—without the Part 2 compensation component—and on March 19 the parties that filed the lawsuit challenging the stay of collection of compensation data were in court asking EEOC to explain why the compensation section was not included in the 2018 report.
The judge gave EEOC and OMB until April 3 to determine if employers will have to report pay information by race and sex in this year's EEO-1 reports. The impact is unclear on the reports that are submitted to EEOC in the next two weeks, but there is a chance the agency will require the compensation and hours worked portion. Berkshire will continue to report on this requirement as it develops. Click here to see previous post on this EEO-1 story. For assistance with your EEO-1 report, contact Berkshire Associates at 800.882.8904 or complete our form here.
Stay tuned to Berkshire's blog for future updates on EEO-1 reporting.