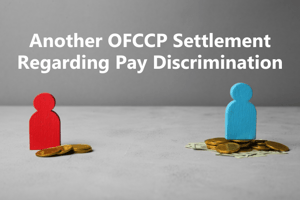 Earlier this week, OFCCP entered into conciliation agreements for California based Hewlett Packard Inc. (HPI) and Hewlett Packard Enterprise (HPE). The conciliation agreements resolved allegations of pay discrimination against 391 female employees across several HPI and HPE locations. HPI and HPE agreed to pay $1.45M in back pay and interest to settle these allegations.

During the audit, OFCCP found pay disparities between female and male workers in similar positions across multiple HPI and HPE establishments located in several different states. Both companies agreed to voluntarily provide relief to the affected employees to resolve the preliminary findings. HPI and HPE have agreed to conduct compensation analyses and will take steps to ensure recordkeeping and internal audit procedures meet regulatory requirements.

Contractors do have a regulatory obligation to conduct a pay analysis every year for their establishments, although OFCCP does not dictate how a contractor should run this type of analysis. Reach out to your Berkshire consultant for more information regarding this requirement.