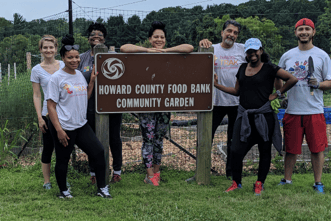 This week, Berkshire staff shifted gears from affirmative action to community action, rolling up our sleeves to volunteer at the Howard County Food Bank and Community Garden.
Neither rain nor mud stood in the way of our volunteers, who spent several hours clearing the garden of weeds and pests so that existing plants could thrive, and more plants could be added. The community garden provides organic produce to the Howard County Food Bank. The healthy and nutritious produce then gets prepped and distributed to Howard County residents in need.
"It doesn't get much more Farm-to-Table than this!" said Rachel Sanborn, volunteer coordinator for the Community Action Council of Howard County. "CAC is really grateful to have Berkshire volunteering with us this week."
Berkshire staff was equally grateful for the opportunity to give back to the community in such a meaningful way.
"Getting the chance to work with my colleagues to help support the mission of the food bank was an awesome experience," said Carla Pittman "Berkshire encourages employees to participate in community service projects, and to have the opportunity to aid the community in which we work...just felt right."
Berkshire Associates is committed to integrating our core values into the work we do, both in and out of the office.
Today, these values sprung to life, affecting positive change in the community, one muddy tomato at a time.