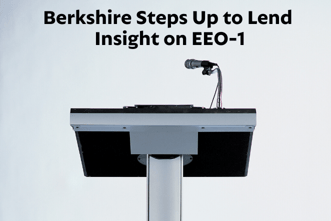 As a reputed authority on matters of affirmative action and equal employment regulation, Berkshire has been asked to testify at a hearing next week regarding the future of the EEO-1 Component 2 pay data collection.
This past week, Berkshire submitted comments in response to the Sept. 12 notice by the Equal Employment Opportunity Commission (EEOC) to discontinue the EEO-1 Component 2 collection while renewing Component 1, which collects race/ethnicity and gender information on employees in ten occupational categories.
In these comments, Berkshire offered input on its experiences helping employers prepare Component 1 and Component 2 reports. Our comments support the EEOC's request to renew the existing Component 1 section of the EEO-1 and discontinue Component 2. And as a result of our extensive expertise in this area, the agency has invited Berkshire's own Lynn Clements, Director of Regulatory Affairs to join an exclusive panel of experts for the upcoming public hearing on Nov. 20.
As Director of Regulatory Affairs for Berkshire Associates, Lynn oversees Berkshire's audit defense practice, helping clients defend hundreds of OFCCP compliance reviews. Previously, Lynn served as a senior policy advisor at the EEOC, as Acting Director/Deputy Director of the Policy Division of OFCCP, and as a shareholder at a management-side law firm where she advised clients on the full range of employment issues, including class discrimination claims.
On Nov. 20, Lynn will share Berkshire's insights, outlined in our comment submission, and respond to questions posed by the Commissioners. The hearing will be open to the public, however, seating will be limited.
We hope to see you there!