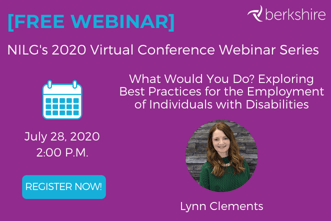 Berkshire is pleased to announce that our own Lynn Clements, Esq., Director of Regulatory Affairs, is among an elite group of professionals selected to present as part of NILG's 2020 Virtual Conference Webinar series.
On July 28 at 2 pm, Lynn will present a free, interactive webinar: What Would You Do? Exploring Best Practices for the Employment of Individuals with Disabilities.
Sign up today to save your spot for this special presentation!
During the webinar, Lynn will explore common mistakes that employers make when managing employment of individuals with disabilities using an interactive "what would you do" format. Attendees will respond to actual case scenarios from government enforcement actions and will, together, decide the best way to handle each situation.
Attendees will learn how to:
evaluate job qualifications

manage performance of individuals with disabilities

process accommodation and leave requests

request appropriate medical documentation
The webinar is free to attend. We hope to see you there!