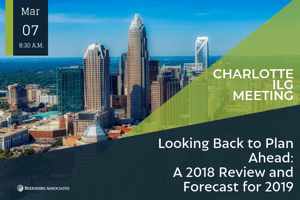 Thinking back on the last year, 2018 was one for the books. Since OFCCP Director Craig Leen took office, OFCCP has made numerous changes that could affect compliance efforts for federal contractors.
Berkshire Associates' President, Beth Ronnenburg, will share insight on the recent directives issued and how these directives will impact federal contractors during audits and the anticipated focused reviews during her presentation on March 7, 2019, at the Charlotte ILG meeting. Attendees will leave this meeting with a better understanding of how these changes may affect them and a forecast of what compliance enforcement efforts will look like 2019.
Topics covered include:
• Review of OFCCP leadership and policy/practice changes
• Understanding how the new directives impact your compliance efforts
• What to expect from compliance reviews
• Preparing for what's to come 2019
This Charlotte ILG meeting will be held at TIAA in Charlotte, NC on March 7, 2019, at 8:30 a.m. All are welcome. Breakfast will be provided at no charge for members, and $20 for guests and non-members. Please click here to reserve your seat.
Need a Speaker for Your Next Local SHRM or ILG Meeting?
If you are interested in scheduling a Berkshire speaker to present on AA/EEO topics at your organization's next event, please contact us today.