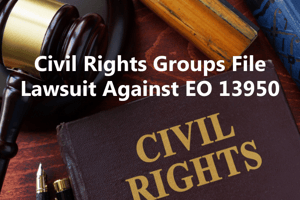 Three civil rights groups have filed a lawsuit challenging Executive Order 13950, the executive order issued in September 2020 intended for 'Combating Race and Sex Stereotyping'. This executive order prohibits federal agencies, contractors, and grant recipients from offering diversity trainings that "inculcate in its employees any form of race or sex stereotyping or any form of race or sex scapegoating."
The NAACP Legal Defense Fund, the National Urban League, and the National Fair Housing Alliance filed a complaint in federal court, arguing that the executive order violates free speech, equal protection, and due process rights. The complaint states that the order is an attempt to undermine efforts to foster diversity and inclusion in the workplace.
While the executive order identifies certain types of diversity trainings as "anti-American", the plaintiffs argue that "...true patriotism demands confronting the truths of our history – no matter how embarrassing or dishonorable – and undertaking the difficult work of learning from the lessons of our past in order to move forward."
The plaintiffs are requesting that the court declare the executive order to be unlawful and invalid, as well as issue a permanent injunction prohibiting the order from being implemented or enforced. Berkshire will continue to monitor developments relating to this executive order.