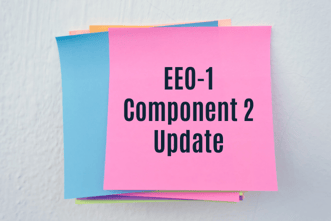 Last week, the EEOC filed a motion with Judge Tanya Chutkan to close the Component 2 website. The agency requested an order that would either deem the collection of Component 2 data for 2017 and 2018 complete or clarify the response rate at which the collection will qualify as complete.
In October 2019, Judge Chutkan ordered the EEOC to keep the Component 2 website open and "…continue to take all steps necessary to complete the EEO-1 Component 2 data collection for calendar years 2017 and 2018 by January 31, 2020." EEOC has complied by continuing to staff the Help Desk with extended hours, emailing companies who have not filed or only filed one year of data, phoning companies, providing filing instructions, and updating their website instructing employers to file if they have not done so.
EEOC reports that 85.6% of eligible filers have submitted Component 2 data as of December 18, 2019, which they indicate exceeds the agency's calculated average yearly response rate of 84.5%. EEOC also reports that keeping Component 2 open for continued filing is costing the agency approximately $150,000 per week since the site is operated by an outside vendor. Stay tuned as we monitor this activity.
Be sure to subscribe to this blog for future updates.