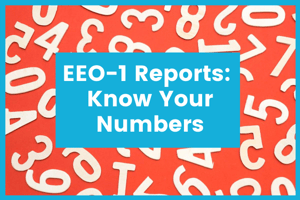 Recent events have brought increased attention for companies to evaluate their workforce's racial equality and diversity, as investors and the public are starting to ask more questions. Since EEO-1 reports capture race and gender information annually for companies with 100 employees or more and government contractors with 50 employees, some companies are being asked to disclose this information.
Recently Scott M. Stringer, New York City Comptroller, sent letters to CEOs of 67 S&P 100 companies on behalf of 3 New York City Retirement Systems. The letters asked the companies to publicly disclose their annual EEO-1 Report data. Stringer states, "We're asking companies that issued statements in support of racial justice to walk the walk and publicly disclose the demographics of their employees by race, gender, and ethnicity – including in their leadership and senior management. This information is crucial for shareowners to better understand diversity and workforce practices and identify areas of growth. Companies are stronger and deliver better value when they are inclusive and representative, and the CEOs of these leading companies should take direct action to match their words."
Stringer has asked for a written commitment by August 30th for these companies to provide the Consolidated EEO-1 reports when they submit that information to the EEOC in 2021. He has also encouraged them to voluntarily include pay data that was reported in last year's Component 2. Stringer suggests that companies use this data to benchmark their data to those of its peers.
Although EEO-1 data has been made available for years under a sharing agreement between EEOC and other federal agencies, such as OFCCP, EEOC only makes aggregate EEO-1 data publicly available, so companies are being asked to disclose this information voluntarily. This call for EEO-1s is an important reminder of how important it is for all companies who submit an EEO-1 report to ensure that all information is checked for accuracy every year.
So, what should companies do now to assess their workforce and respond to requests for broader disclosures?
Ensure that all the jobs held by employees are grouped in the appropriate EEO-1 category. Information about mapping jobs to EEO-1 category can be found on the EEOC website.
Check other important information before generating EEO-1s, including Federal Tax ID numbers (FEIN), Dunn and Bradstreet Identification Numbers (DUNS) numbers (for federal contractors), and North American Industrial Classification System (NAICS) codes. All of these are important identifiers of the company and industry. Likewise, it is important to check establishment addresses and headcounts.
To make comparison with peers in the industry, companies can use the EEOC Employment Statistics. The data is classified by industry and geographic area and provides special reports that show changes to demographics of the workplace over periods of time.
The next few months is an ideal time to ensure the accuracy of the information for the 2019 EEO-1 filing and in anticipation of the 2020 report, both of which are due in early 2021.
Your affirmative action Plan is a good resource to evaluate the diversity of your workforce. Annual and midyear plans provide a solid foundation to begin reviewing and analyzing the company's workforce data. Companies should also evaluate and expand on outreach programs and consider scholarships or internships for minority-based organizations and schools.
As evidenced by this recent activity, the focus on fair pay is also going to continue. Proactive analyses can ensure that the company knows that pay practices are fair across the organization. Berkshire can assist with workforce evaluation, including more information on external resources for comparisons. Feel free to reach out to your Berkshire Consultant or Account Executive for more information.