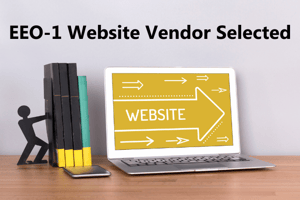 Westat announced that they were selected by the Equal Employment Opportunity Commission (EEOC) to provide data collection and consultation to modernize the EEO-1 survey.
EEOC collects employer data in many forms depending on the type of company or organization. The EEO-1 is required to be filed annually by all companies that meet the following criteria:
Subject to Title VII of the Civil Rights Act of 1964, as amended, with 100 or more employees;

Subject to Title VII of the Civil Rights Act of 1964, as amended, with fewer than 100 employees if the company is owned by or corporately affiliated with another company and the entire enterprise employs a total of 100 or more employees;

Federal government prime contractors or subcontractors subject to Executive Order 11246, as amended, with 50 or more employees and a prime contract or subcontract amounting to $50,000 or more.
Read more about the EEO-1 on their FAQ page.
According to Westat's announcement there are approximately 90,000 businesses who use the EEO-1 site annually to provide data on to the EEOC. There are also approximately 7,100 biennial data collection reports for unions, state and local government and schools – known as the EEO-3, EEO-4 and EEO-5 reports.
No changes or announcements have been made about the due dates for the 2019 and 2020 EEO-1 data collections. The most recent announcement from EEOC has a target date for filing the reports of March 2021. In that same announcement, EEOC states that the data to be filed will be Component 1 data only – no compensation or hours worked.
Berkshire is monitoring this issue and we will continue to report on developments. If you have any questions about your EEO-1 reporting, please contact your Berkshire consultant.